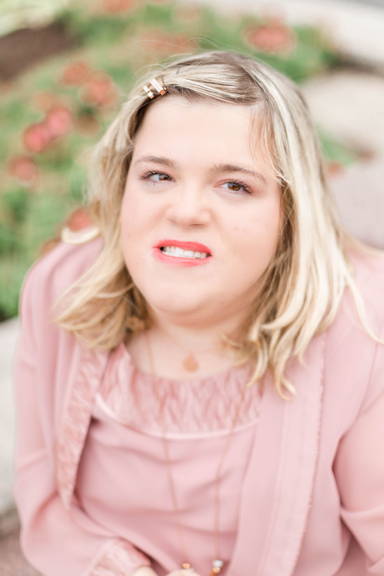 My name is Marisa Conners, and I am a talented fashion designer, entrepreneur, disability rights advocate, storyteller, and motivational speaker. I grew up in Cincinnati, Ohio, and I graduated from Oak Hills High School in 2015. To initiate my career, I attended Mount St. Joseph University for 2 1/2 years but the college didn't offer the classes I needed to fulfill my career choice so I left. After several months of pondering, I decided to teach myself to pursue my dream career.
I have had a love of playing fashion games on the computer since I was 3 years old. I have always dreamed of becoming a fashion designer since kindergarten. I have a special combination of two passions- designing unique fashion and working with people with disabilities.
I have Cerebral Palsy which is a permanent disability caused by brain damage that affects body movement and muscle coordination. I can walk with assistance and stand on my own. I use a wheelchair for long-distance. Although I cannot speak, I can communicate through the use of my iPad and alphabetical chart as well as customizable AAC boards. I NEVER let cerebral palsy stop me from pursuing my dreams, doing what I love, and enhancing my beauty and and ability to live independently. And I focus on ABILITY, NOT DISABILITY!!
I'm a highly skilled visual learner and thinker because I have a special gift of visualizing everything through my mind and vision. I also have exceptional photographic memory. I'm a great digital artist who specializes in fashion design, pattern design, and illustration. I typically use Adobe graphic design software to create stylish designs and other amazing works. I've always loved viewing vintage, girly-girl, and chic casual fashions which I would use some inspiration to create original designs. As well, I have developed a strong interest in designing custom adaptive clothing designs for those who have difficulty dressing. My special abilities and interests are extraordinary gifts that are unlike any other.
My mission is to empower people of all unique abilities toward a future of inclusion, acceptance, and opportunity in the fashion industry and inspire others to make their dreams come true with me.
In my spare time, I love shopping, exercising, movies, dining in nice restaurants, traveling, and hanging out with my friends. I'm a lifelong fan of Disney. I also love to watch & attend local sports games, especially the Cincinnati Reds- I am a HUGE fan! My disability has not prevented me from having a great life. My mottos are: "Happiness Is A State of Mind" and "Work Hard, Play Hard".
With help of my team, Dreams Do Come True! 💕✨