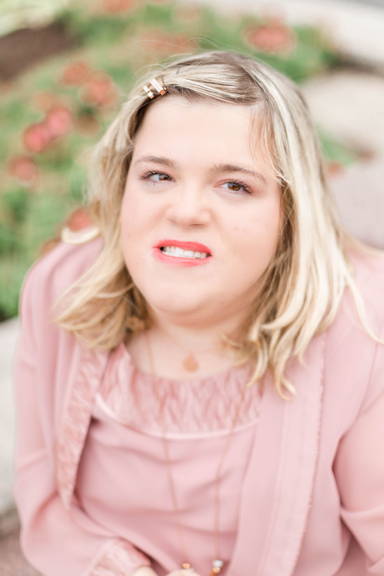 My name is Marisa Conners, and I am a visionary, creative, talented, and ambitious fashion and graphic designer, entrepreneur, artist, and disability advocate. I grew up in Cincinnati, Ohio. I launched my namesake womenswear brand, Marisa Conners (also known as MC) in April 2021, based in Cincinnati, Ohio. The brand is a representation of my fashionista style and outgoing personality that draws inspiration from vintage, girly-girl, and chic casual fashion. We are a unique and inclusive fashion company. It tells my personal story. I have a common physical disability called Cerebral Palsy which affects all four limbs of my body and leaves me unable to speak on my own. I speak using my iPad. I understood everything. I can walk with assistance and stand independently. I use a wheelchair for long-distance. Luckily, my CP doesn't affect my mind. I am also hard of hearing. I have always been advocating for people with disabilities like myself who live independently and achieve how much they do.
I began developing my own skills and abilities at age three. At the same time, I began using a computer as my dad taught me how to use technology which rendered me a tech genius. I would use a computer every single day. I have always dreamed of becoming a fashion designer and entrepreneur since I was a kindergartener because I used to play fashion games on the computer. Therefore, I discovered that I have developed a strong passion for designing unique fashion. I particularly love art and design. I used to draw and paint on paper from toddlerhood to high school. I took numerous fashion design and graphic design classes in high school. At that time, I learned how to use Adobe graphic design software. The use of digital technology is essential to me and it helped me find a creative voice. I graduated from Oak Hills High School with "highest" honors in 2015.
To initiate my career, I attended Mount St. Joseph University for five semesters. I dropped out of college in December 2017. It was very very stressful for me because I realized that the college didn't fulfill my career choices. After all, I couldn't find the right major. I originally planned to study graphic design there but I was told that they forced me to take required core classes before graphic design classes. I made a sudden mistake ahead of my college dropout. I felt so ashamed and upset about something hard that happened during my college days. Some months later, I decided to teach myself to pursue my dreams rather than a college degree. I thought it would be pretty much possible for me to pursue a career in fashion design, entrepreneurship, and graphic design without formal education or a degree. Self-teaching was the best decision I ever made. I am thankful to be self-taught in the fields of fashion design, graphic design, and entrepreneurship.
`
I am a highly skilled visual learner-thinker because I have a unique gift of the ability to visualize everything through my mind. I also have an exceptional photographic memory that allows me to visually memorize every single moment of my life and every detail that creates ideas. I have learned graphic design for creating fashion designs and other areas of design in a self-teaching way. This experience has given me more confidence in the design process, visual thinking, creativity, and problem-solving. I typically use Adobe graphic design software and other creative apps to create innovative designs and unique arts. I can't sew or pattern anything because my hands are too way weak to do it due to my cerebral palsy. However, I can rely on a team to construct garments and accessories for the runway and sale. Fashion and Graphic Design are my two main passions because I primarily focus on using specialized software on my computer and iPad to create any kind of things in the fashion and graphic design industries. Those things are my extraordinary gifts, unlike any others.
Even though I am a fashion and graphic designer, entrepreneur, and artist with a disability, I could be able to acknowledge anything and everything relevant to these fields that I love. As well, I have a strong and special interest in custom adaptive clothing designs for people who have difficulty dressing because of their disability and old age. I found a life-changing idea for my brand. The garment can be customizable that meets the significant needs of anyone who may have or not have a disability, regardless of how they feel and look. This is a crucial meaning of inclusive fashion. I feel like anybody should be able to wear anything that they feel comfortable with. But, it doesn't have to sacrifice the quality of the clothing. That matters most to me.
My vision is for all women and girls including those with developmental disabilities especially, Cerebral Palsy wanting to wear whatever they want and make them look special, elegant, feminine, and fabulous. I am on a mission to empower people of all unique abilities toward a future of inclusion, acceptance, and opportunity in the fashion industry. I always strive to inspire others to achieve their dreams and goals even if they have physical challenges.
I am a big dreamer and believer. I refuse to let my disability define me because I am never going to be afraid of following my dreams but it's just a part of my story. I want to urge fashion and design professionals to help make my dreams come true and be a part of my business team. They are encouraged to better understand who I am and how I can work as a visual designer, artist, and entrepreneur. That would make me a great leader.
I eagerly plan to expand my fashion company which will become a national brand, and open my fashion studio headquarters in Cincinnati. Most importantly, I am a strong lifelong advocate for my rights, disability rights, and accessibility. My biggest hope is to promote inclusion and break barriers in the fashion industry.
Outside of my work, I love shopping, traveling, dancing, listening to music, movies, and hanging out with friends. I am a lifelong fan of Disney. I am also a huge fan of local sports teams, Cincinnati Reds and Cincinnati Bengals. My favorite singer is Taylor Swift who created "Shake It Off" song and the song always makes me feel motivated and happy every day.
With the help of my team and supporters, Dreams Do Come True!